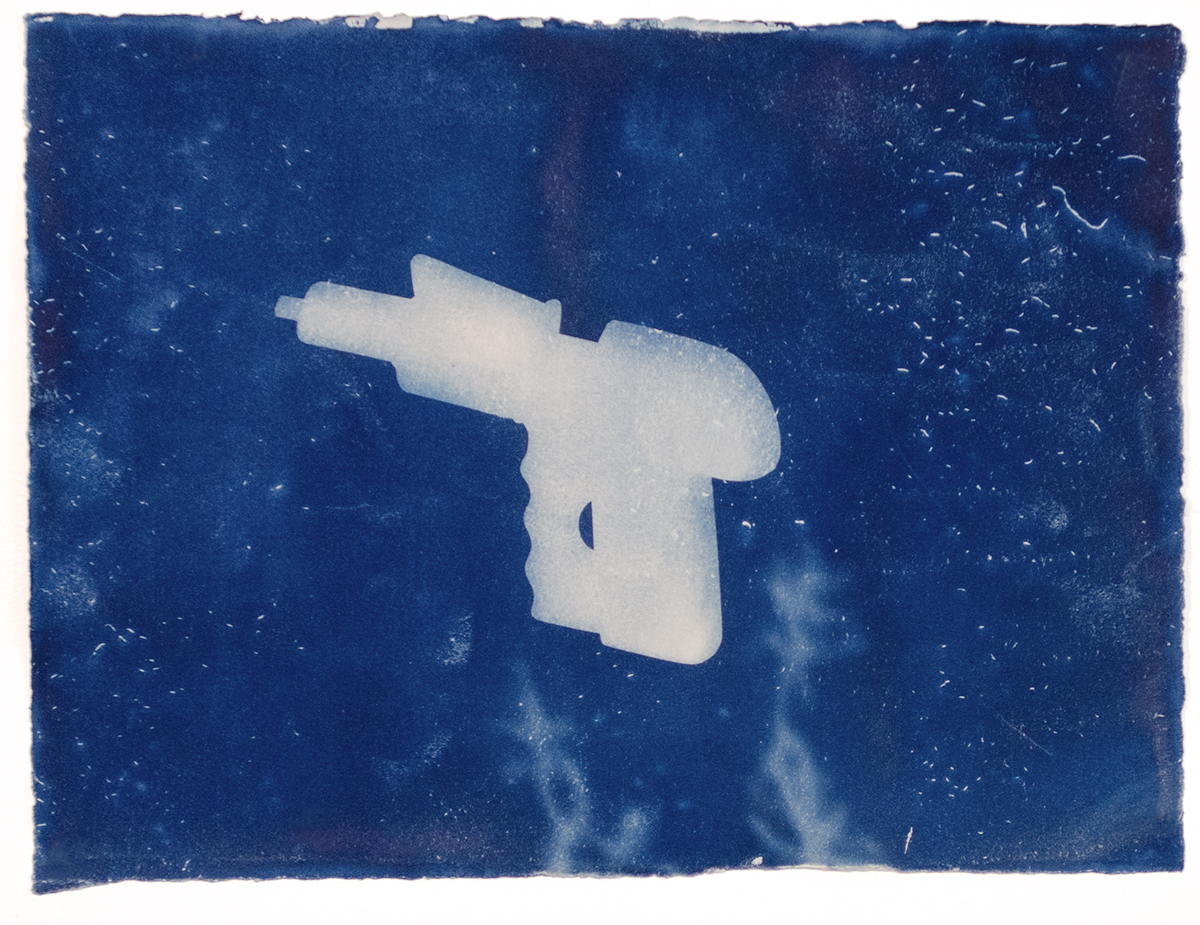 Desert Neighbors
For the work on view at the "GUNS" show I detoured from the plants on my desert property to my neighbors homes. I am breaking all desert convention by approaching my neighbors, and then, armed with the with the knowledge that desert people own guns, I ask if they have a gun and would they "let me make a cyanotype print of it?" The resulting sun print, the shadow cast by the weapon on the paper, is like a medical X-Ray, a transposed view of the object inviting identification of underlying pathology, underlying cultural understandings. The resulting brilliant blue life sized shadow of a weapon is the result of a conversation with the owner. The result of "conversations we do not have".
A Limited Edition Artist Book/Zine "Desert Neighbors" with text and miniaturized reproductions of the actual cyanotype prints in a handmade edition of 50 accompanies the exhibition. Book CLICK HERE
Meg Madison September 2016
GUNS at the LOFT AT LIZ'S
The Loft at Liz's fine art gallery (Los Angeles, CA) debuts its exhibition dedicated to the national dialogue on gun violence on Saturday, September 24th, 2016. The show, titled simply "GUNS", features an astounding 23 artists' works on the titular subject. This exhibition is jointly curated by art historian Betty Ann Brown, collector Dr. Anita Storm and gallerist Liz Gordon.
Featuring works by John Baldessari, Jodi Bonassi, David Buckingham, Helen Chung, Joyce Dallal, Cheryl Dullabaun, Shepard Fairey, Michael Flechtner, Jane Goren, Mark Steven Greenfield, Alex Kritselis, Meg Madison, Ted Meyer, Sabine Pearlman, Osceola Refetoff, Miles Regis, Milo Reice, Ed Ruscha, Kathy Shorr, Anna Stump, Senon Williams and Kerri Sabine-Wolf.

Curated by Betty Ann Brown, Liz Gordon and Dr. Anita Storm.
Plus performance work by Maya Gurantz and Elizabeth Goodman
WEDNESDAY OCTOBER 5th CURATOR & ARTIST WALKTHROUGH 7PM – 9PM HOSTED BY LIZ GORDON
SATURDAY OCTOBER 15th WOMEN AGAINST GUN VIOLENCE PANEL DISCUSSION with guest speakers: Hollye Dexter (WAGV.ORG), Lonnie and Sandy Phillips (JESSI'S MESSAGE) . Los Angeles City Councilmember David Ryu, Anthony Coda Lopez (GAYS AGAINST GUNS)with moderator Judith Palarz 3PM – 5PM
FRIDAY OCTOBER 21st ART SANDWICH CONFIDENTIAL A stand-up comedy experience and commentary on guns.
FRIDAY OCTOBER 28th Closing Reception & GUNWORLDS Performance by Maya Gurantz and Elizabeth Goodman 7PM – 10PM